Julene & envibrance Clothing Line in Olay Campaign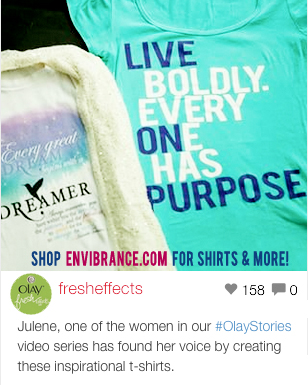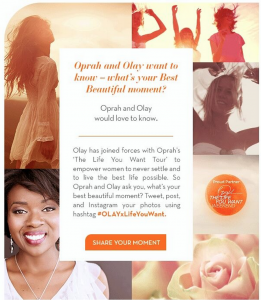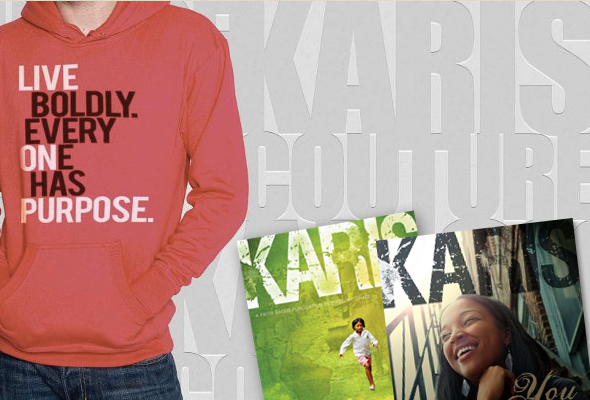 Envibrance Dream Apparel's "Live Boldly, On Purpose" hoodie was featured in Karis Magazine's Karis Couture feature. Karis Magazine features fashion and organizations that support important causes and are aimed at making a difference in the world – which is the passion and heart of Envibrance – a portion of the proceeds for every item purchased will go toward helping children affected by poverty around the world.
The design on the hoodie is also available as T-shirts for both Men and Women.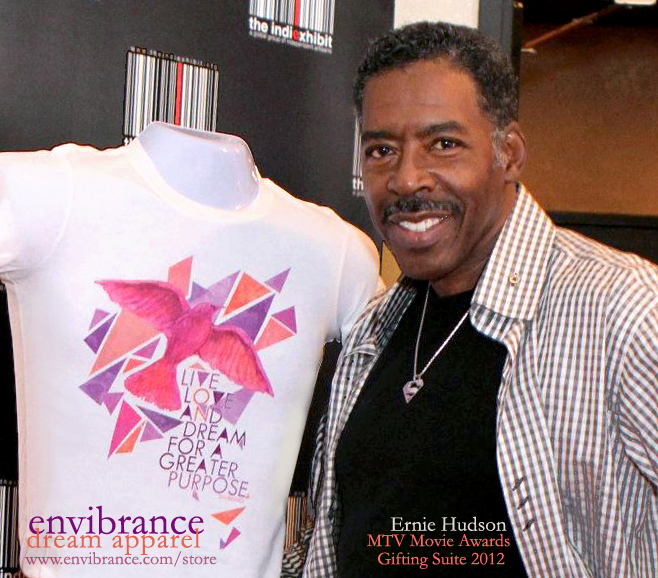 Envibrance Dream Apparel shined inspiration and purpose at the 2012 MTV Movie Awards Gifting Suite in Los Angeles, CA. One of the celebrities who stopped by was Ernie Hudson who you might recognize from over 100 film and TV credits including Heroes, Ms. Congeniality 2, and of course Ghostbusters. We admire his work and the inspiration he gives to others for following their purpose and dreams!
Check out this write-up in The Huffington Post where Envibrance got a mention from the MTV Movie Awards gifting lounges… Click here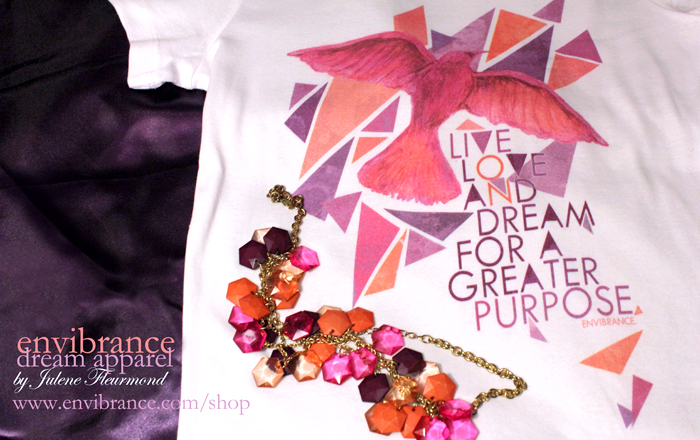 Click here to view this new shirt for women…

You are here for a purpose, to impact the world and to make a mark. Live boldly, love others intentionally and dream a dream that is greater than you.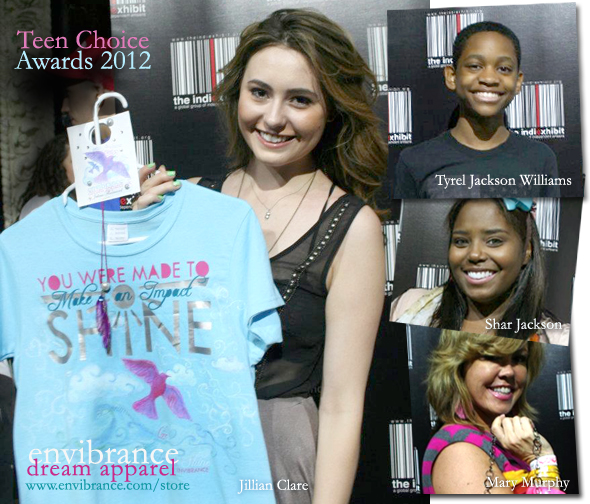 Envibrance Dream Apparel shined some light at the 2012 Teen Choice Awards Gift Lounge. One of our ocean inspired T-shirts reminded attendees that "You were made to make in impact…SHINE!" Some of the shining stars who stopped by were Jillian Clare (actress and producer), Tyrel Jackson Williams (actor from Disney's Lab Rats), Shar Jackson (actress maybe best known from Moesha) and Mary Murphy (dance champion, choreographer, and judge from So You Think You Can Dance).
Remember to always dream big, love and serve others and make an impact in your corner of the world.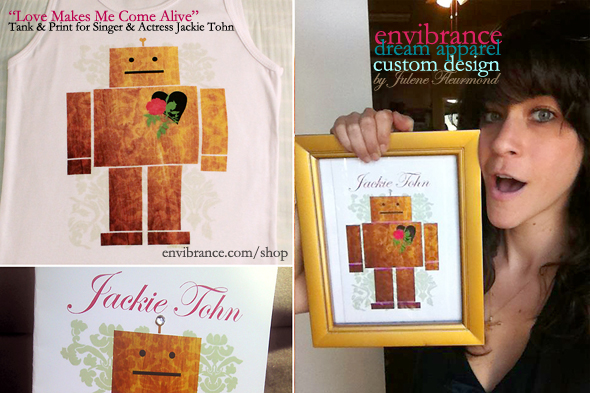 Actress and singer Jackie Tohn (who you may have seen on American Idol or BravoTV's "Platinum Hit" among other shows) has a love for all things wooden, fun, robots and vintage, so Envibrance created a cute custom "Love Makes Me Come Alive" Wooden Robot Tank and print just for her. She loved the design so much that she framed the print and has it in her house, how awesome is that! Thanks Jackie for sharing and keep following your dreams!
Want us to create a personalized t-shirt or accessory (iPhone/iPad case, necklace, wristlet, etc.) that matches your style? Contact us here today to let us know what you like and get started!
Julene, founder of Envibrance has been featured in a variety of magazines, newspapers and TV programs:

Learn how to raise creative, business-minded children who dare to live their dreams!
My story is featured in the book The Parents' Guide To Raising CEO Kids
Dr. Jerry and Sarah L Cook in their journey to support their own three young entrepreneurs, did over 200 interviews with young entrepreneurs and their parents to bring you this amazing resource!
Click the image below to order this book and help cultivate your kids' flourishing futures today!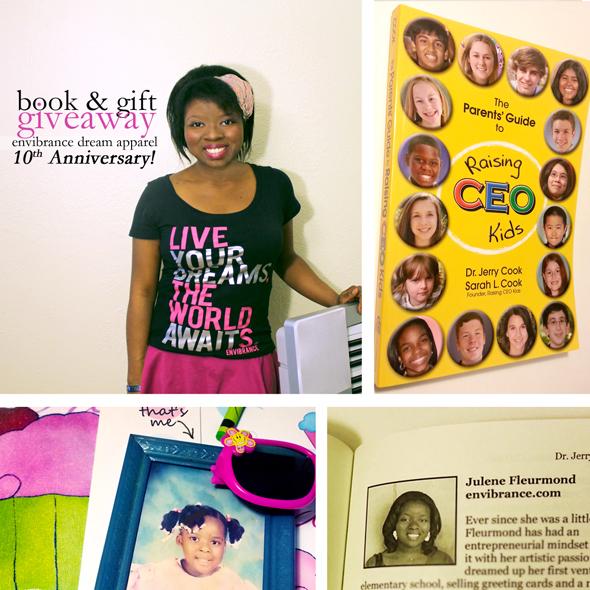 Often what you loved to do and dreamed of as a child is a clue and purpose-pointer to what you're called to do today…
One of my dreams since I was a little girl was to be an entrepreneur and share my art and inspiration with the world. I recently found some of my first business plans that I created with Network for Teaching Entrepreneurship (NFTE) at NFTE South Florida and realized I've been an entrepreneur for over 20 years since I was in elementary school and running my current business
Envibrance Dream Studios
that I started as a teen for 10!
I want to pay it forward and share mentorship and wisdom by giving the gift of entrepreneurship to other young dreamers (or the kid in you, remember when you dreamed and was creative without limits?) with this awesome book "The Parents' Guide to Raising CEO Kids" by Dr. Jerry Cook and Sarah L. Cook. My story is featured here along with other inspiring entrepreneurs of all ages with great advice on how to start a business and cultivate entrepreneurship no matter where you are in life. Another inspiring gift you can give is an inspirational T-shirt/print of your choice from my line Envibrance Dream Apparel I will be doing periodic giveaways on Instagram and on the Dare Dreamer email updates so join the community to join the party!
Interview with the Network for Teaching for Entrepreneurship (NFTE)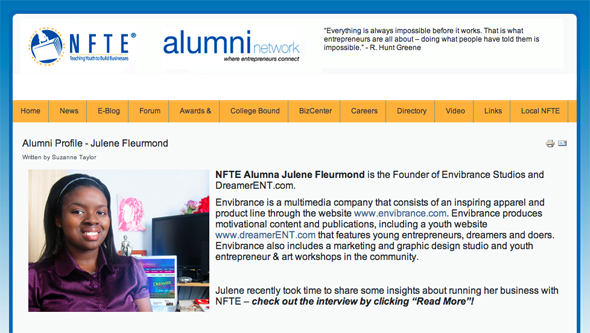 From the NFTE Interview
NFTE Alumna Julene Fleurmond is the Founder of Envibrance Studios and DreamerENT.com.

Envibrance is a multimedia company that consists of an inspiring apparel and product line through the website www.envibrance.com. Envibrance produces motivational content and publications, including a youth website www.dreamerENT.com that features young entrepreneurs, dreamers and doers. Envibrance also includes a marketing and graphic design studio and youth entrepreneur & art workshops in the community. Julene recently took time to share some insights about running her business with NFTE:

What is the start-up story behind your business venture?

I had always been interested in writing, journalism and art since childhood, and began doing freelance art and graphic design for teachers, family and friends while in high school. By the end of high school I decided to start Envibrance and expanded it to also sell my original artwork, apparel and stationery products. Envibrance also became a motivational company when people began to ask me to do speaking engagements for youth…

Julene is also featured in the new entrepreneurship education textbook from NFTE. The textbook entitled Entrepreneurship: Owning Your Future, Written by Steve Mariotti, NFTE Founder, is used in the NFTE curriculum to teach high school students the art of starting and running a business.
To find out more and to order the textbook visit the NFTE website at http://nfte.com.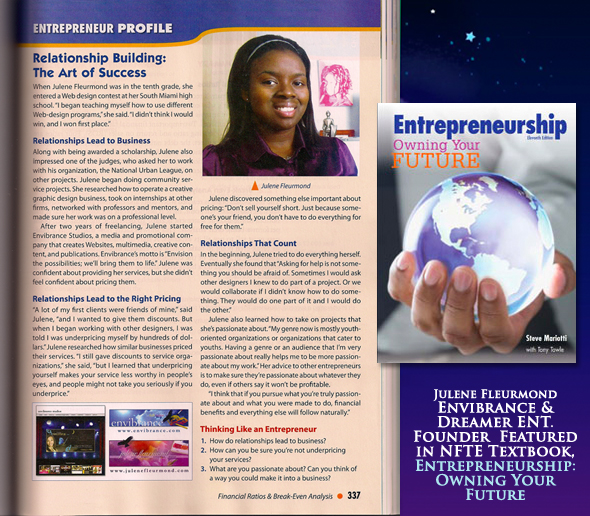 Click here to learn about Julene's speaking resource Young Dreamer Enterprises for Youth Motivational Services.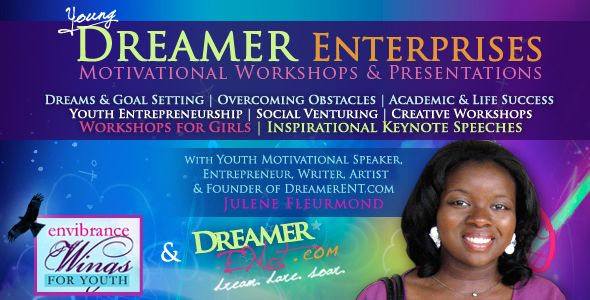 Below watch clips from Julene's Youth Entrepreneurship Workshops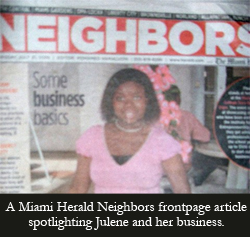 Other Press & Publications
Books
The Parent's Guide to Raising CEO Kids by Dr. Jerry Cook & Sarah L. Cook – Profiled in book
Entrepreneurship: Owning Your Future, feature in textbook by The Network for Teaching Entrepreneurship & Steve Mariotti
The University of Miami Ibis – Feature on Young Entrepreneurs
Print
South Florida CEO, February 1, 2006
The Miami Herald, "Business Flair Recognized", by Jim Wyss, May 19, 2005
The Miami Herald, Neighbors Section Cover Story," Some Business Basics", July 17, 2005
Harvard Public Health Now, September 2002
National Urban League, Opportunity Journal, Spring 2005


Television
WFAA Channel 8 News, December 2010
College Zone Show Interview, June 2010

My33, Miami Herald Silver Knight Awards, July 2004
Miami-Dade Cable-Tap, Presentation on Young Entrepreneurs, July 2005


Radio
Speaking Engagements and Appearances
Dream Girlz Gathering Youth Entrepreneurship Workshop
Girls Inc. of Metropolitan Dallas Corporate Camp for Entrepreneurs Workshops
Network for Teaching Entrepreneurship Social Entrepreneurship Presentation at SUCCESS Magazine Rally
Hispanic Youth Symposium Youth Entrepreneurship Workshop
National Institute of Health Main Headquarters in Washington D.C. Multimedia Presentation on Health

Harvard School of Public Health Presentation
Black Enterprise Conference Presentation for Teenpreneur Program
Miami Dade Public Schools Teachers Board Presentation on Youth Entrepreneurship
Miami Dade College Presentation for the Institute for Youth Entrepreneurship Program
Florida Atlantic University Business Networking Presentation on Women Entrepreneurs

Women's History Celebration at the University of Miami
Royal Rejuvenation Beauty and Wellness Fair at the University of Miami



Awards & Recognition
NFTE National Young Entrepreneur of the Year
National Youth Venture Grant Recipient
Harvard School of Public Health Research Apprentice
National Institute of Health Research Apprentice
Gates Millennium Scholar
Black Enterprise Teenpreneur Participant
South Florida Business and Professional Women's Association Business Award
Independent Means Dollar Diva Award
Two City of Miami Proclamations

Generations of Entrepreneurship Award
Miami Herald Silver Knight Award in New Media
Seevak Website Design Award
National FBLA Web Design Award
National Urban League Young Writer
Landmark Editions National Written and Illustrated By Award