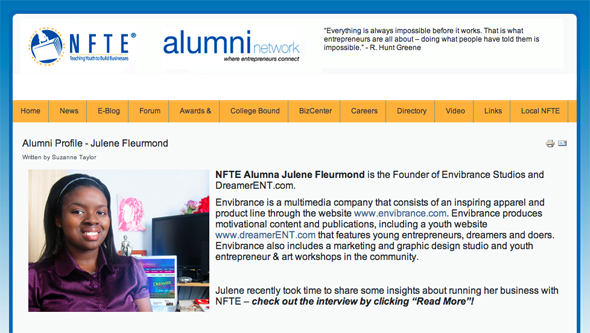 Recently Envibrance's founder Julene was featured in a profile on the Network for Teaching for Entrepreneurship (NFTE) website. NFTE is the program that enabled Julene to start her own marketing business when she herself was in high school.
From the NFTE Interview
NFTE Alumna Julene Fleurmond is the Founder of Envibrance Studios and DreamerENT.com.

Envibrance is a multimedia company that consists of an inspiring apparel and product line through the website www.envibrance.com. Envibrance produces motivational content and publications, including a youth website www.dreamerENT.com that features young entrepreneurs, dreamers and doers. Envibrance also includes a marketing and graphic design studio and youth entrepreneur & art workshops in the community. Julene recently took time to share some insights about running her business with NFTE:

What is the start-up story behind your business venture?

I had always been interested in writing, journalism and art since childhood, and began doing freelance art and graphic design for teachers, family and friends while in high school. By the end of high school I decided to start Envibrance and expanded it to also sell my original artwork, apparel and stationery products. Envibrance also became a motivational company when people began to ask me to do speaking engagements for youth…
Julene is also featured in the new entrepreneurship education textbook from NFTE. The textbook entitled Entrepreneurship: Owning Your Future, Written by Steve Mariotti, NFTE Founder, is used in the NFTE curriculum to teach high school students the art of starting and running a business.
To find out more and to order the textbook visit the NFTE website at http://nfte.com.