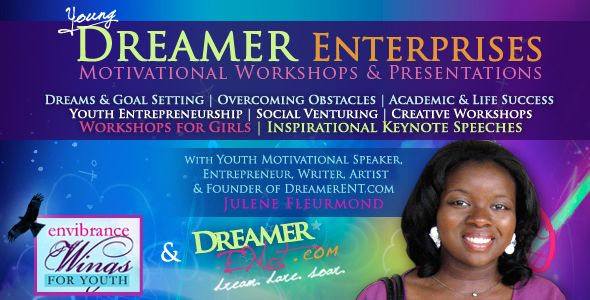 Wind & Wings for Youth offers a variety of youth enrichment services and programs including:
Workshops on youth entrepreneurship, social entrepreneurship, dream development, college-preparation, self-esteem and empowerment.
Presentations and programs inspiring children and teens to embrace literacy, writing arts & creativity, and a variety of professional careers and messages/activities for children's & youth ministry events.
Julene Fleurmond, founder of Wind & Wings and a young entrepreneur and social venturer, is available for motivational speaking engagements for conferences, schools and other related events.

Use our contact form to inquire about events and engagements.
Our youth program Young Dreamer Enterprises and motivational site for youth, DreamerENT.com, empowers young people to follow their passions and to embrace education, the arts, entrepreneurship and other positive activities.
Our Women's Celebration Events are aimed at honoring women in the community who have encouraged and supported young people to reach for their dreams.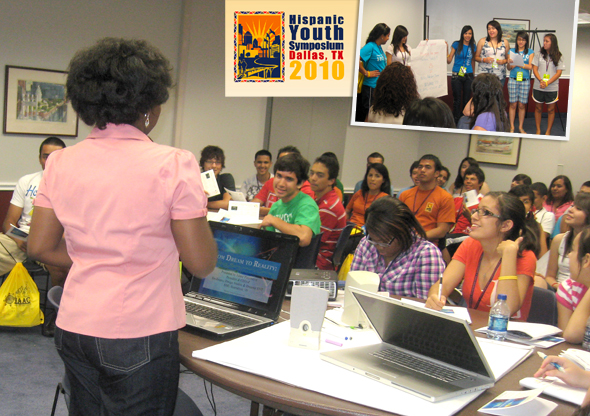 Above: Wind & Wings founder Julene recently gave youth entrepreneurship workshops to high school students at the Hispanic Youth Symposium at Southern Methodist University in Dallas, TX.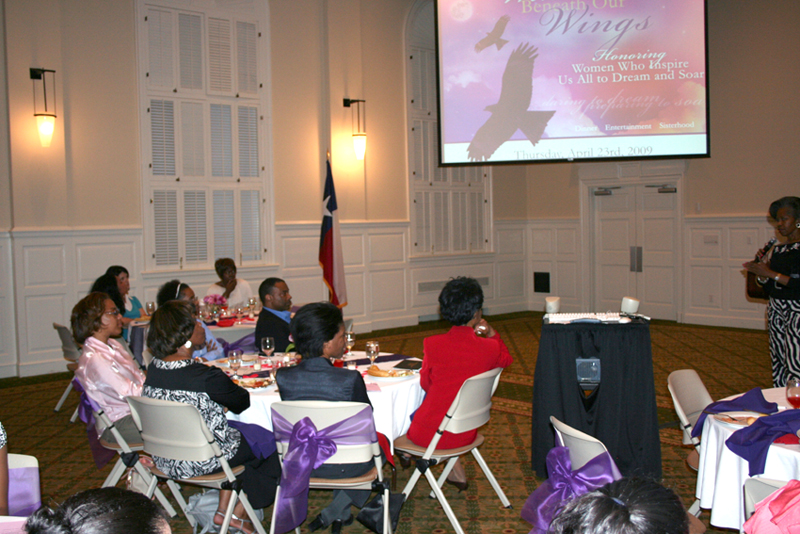 Above: The Wind Beneath Our Wings Event that took place on April 23, 2009, at Southern Methodist University, honored local women in the community who are involved with supporting youth.


Below are more events Julene has presented at:
– Girls Inc. of Metropolitan Dallas Corporate Camp for Entrepreneurs
– Hispanic Scholarship Fund Youth Symposium at SMU in Dallas, Texas
– Network for Teaching Entrepreneurship Youth Success Rally, Presentation on Social Entrepreneurship, Dallas, TX
– National Institute of Health Main Headquarters in Washington D.C., Research Presentation
– Harvard School of Public Health, Harvard Alumni Health Study Research Presentation
– Black Enterprise Conference Presentation for Teenpreneur Program, Dallas, TX
– Miami Dade Public Schools Teachers Board Presentation on Youth Entrepreneurship
– Miami Dade College Presentation for the Institute for Youth Entrepreneurship Program
– Florida Atlantic University Business Networking Presentation on Women Entrepreneurs
– Women's History Celebration at the University of Miami, Host and Planner of Program and made presentation to honor inspirational women
– Royal Rejuvenation Beauty and Wellness Fair at the University of Miami, Host, Planner and Chair of the Event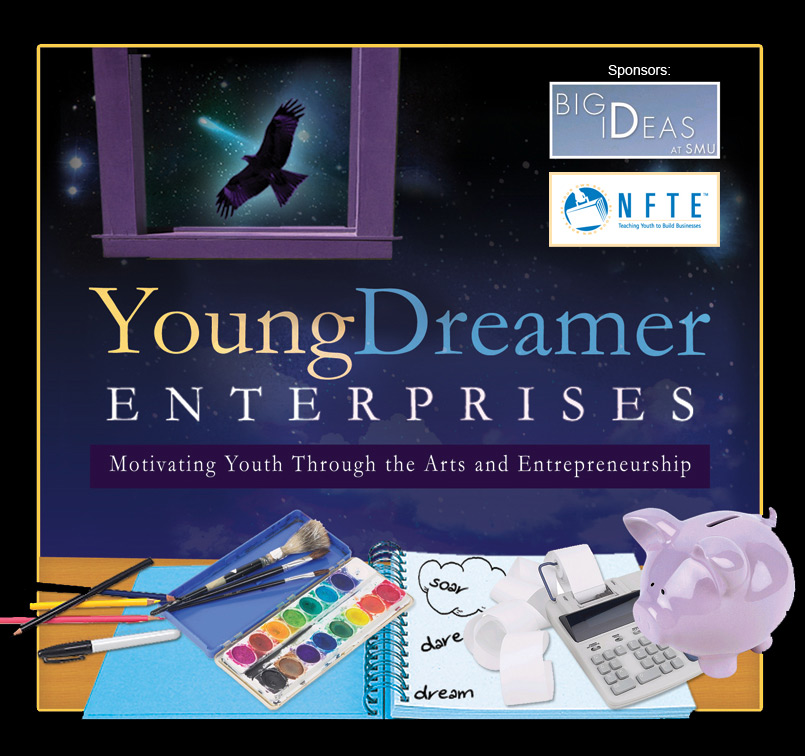 Young Dreamer Enterprises is a service project under Dreamer ENT that's aimed at providing students with an artistic outlet where they can focus on creative initiatives and learn about entrepreneurship. The program began through a Youth Venture community grant, and is sponsored by a Big IDeas in Dallas grant. We are also supported by the Network for Teaching Entrepreneurship. Young Dreamer Enterprises is spearheaded by college students in Dallas, TX.
The project consists of the following segments:
Entrepreneurship enrichment programs and events
Art and writing contests for youth
We're currently looking for volunteers and sponsors to take part in the project. Please contact us via our form if you are interested in mentoring youth, or providing your resources or services.
Dreamer ENT is a continuation of a community service program the founder created in 2004. Originally, the program began through a Youth Venture community grant in Miami, Florida, and was called Art for Humanity. Through Dreamer ENT, we are adding an entrepreneurship enrichment component to the original project mission.
Read more about Art for Humanity below: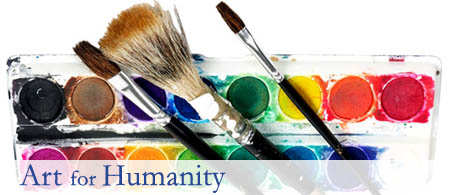 "For the love of art and all things creative: Give, create, inspire."
The goal of Art for Humanity is to inspire and assist the Miami-Dade community through the use of art in many forms. Art for Humanity has three main components:
1) A Youth Art Appreciation Program, holding art contests at Miami-Dade Public Libraries to increase student's pride and interest in the arts;
2) An online community for teens encouraging them to be successful in a variety of careers;
3) Graphic and web design services for charitable organizations.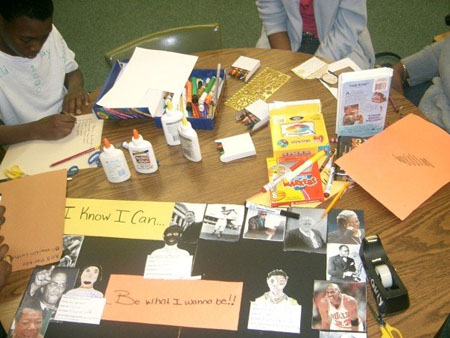 Sponsors: